Philadelphia Leadership Summit
Location
Philadelphia, PA
Philadelphia Leadership Summit
Collaborate with a respected published author, organizational psychologist, and human capital experts.
Join the Seubert Team for an exclusive event with guest speakers from a variety of key industries at the Franklin Institute in Philadelphia, PA.
The event will cover hot topics catered towards executive leadership and human resource teams. You will learn about cyber security training, and the importance of defending your network and protecting your data. As well as a panel discussion focused on managing remote work and company culture. We'll also dive into navigating diversity, equity and inclusion, current talent shortages and recruitment challenges, and what companies can do to manage their employment brand. Click here to register for this event.
Whether you attend Session I and Lunch, or Lunch and Session II, or both, you'll walk away with actionable insight.
We'll end the day with a little magic at the brand new Harry Potter: The Exhibition. This global Warner Bros. Entertainment exhibit makes its earthly debut in Philadelphia on February 18th. When attending Session I, and/or Session II, be among the first to attend a private showing of the Wizarding World, including authentic props and costumes. This behind-the-scenes installation celebrates the iconic moments of Harry Potter through beautifully crafted environments using best-in-class immersive design and technology to deliver an unforgettable personalized experience.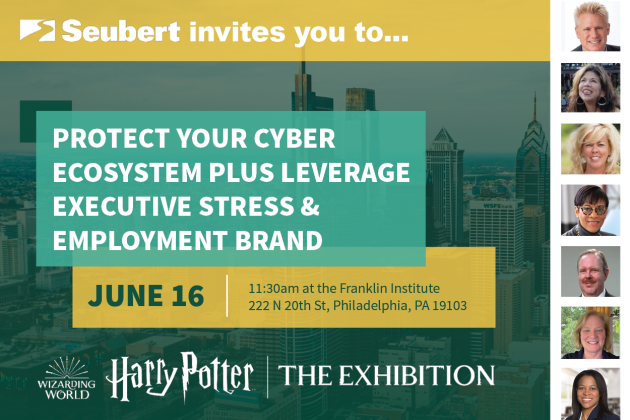 Outline of the Day
Session I
11:30am – 12:50pm – Christopher Espinosa speaks on cyber security
Lunch & Networking – 1:00pm – 1:45pm
Session II
2:00pm – 2:45pm – Romy Gelles speaks on navigating positive impacts
2:45pm – 3:30pm – Our expert panel discusses workforce management and leadership; COVID-19 policies, remote work management and company culture. Talent shortages and recruitment challenges, and managing employment brand.
Closing Remarks – 3:30pm – 3:45pm
Harry Potter™: The Exhibition Tour – 4:00pm – 5:00pm

Meet the Experts
Questions?

Seubert & Associates, Inc. is a full-service insurance agency specializing in employee benefits, surety bonding, commercial insurance and personal insurance. The company excels in specialized risk management assessments and alternative risk funding strategies with the goal Minimize Risk. Maximize Potential. Seubert is headquartered in Pittsburgh, PA with additional offices in Philadelphia, Washington D.C., and most recently, West Palm Beach Florida.

info@seubert.com | 412-734-4900 | www.seubert.com